Our editorial team received a letter from a desperate bride. She doesn't want us to reveal her name — but we can share with you the details of her story.
"I've been dating my partner for over two years. Four months ago, he proposed to me and our wedding will take place in half a year.
But instead of being over the moon, planning my wedding is making me miserable. I genuinely love my future husband and he adores me too. I believe that we were born for each other. It's not the idea of becoming his wife that I hate… I hate planning my wedding!
I suffer from insomnia and I've lost appetite. I've become irritable and frequently break out in tears.
Is there something that could help me to cope with my feelings?"
Surprisingly, this is a rather widespread problem among brides-to-be. In this article, we will try to analyze the possible reasons for this phenomenon and share 8 wise tips with you.
Why can wedding planning be stressful?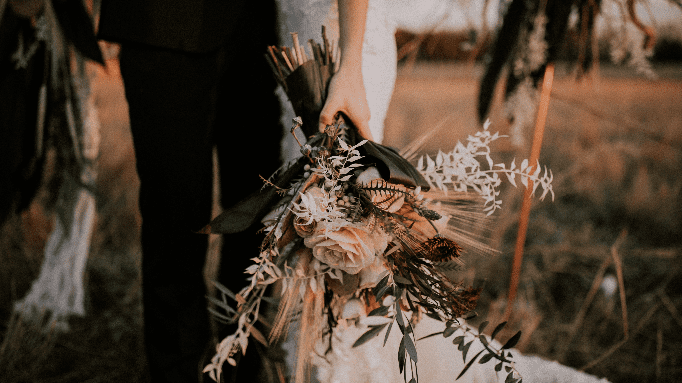 In most cases, brides-to-be feel miserable because of the following reasons:
They are shy and introverted by their nature.
They are afraid to do something wrong.
They are not sure whether they should spend that much money on the ceremony.
They don't want anyone to envy them — but they know that some people will.
They are bad at organizing things. They have poor time management and task management skills.
Even if they are normally good at organizing, they might feel too emotional. They think they might lose focus and forget about important details.
They have seen too few weddings with their own eyes and they don't know what to get started with.
For each of these problems, you can find efficient solutions. If you don't know anything about modern weddings, you can look for videos and articles on the Internet. Also, you ask your friends for advice or consult a professional wedding planner.
People who fail to control their emotions might need to wait a bit. Your wedding won't take place tomorrow or next week, right? You'll have enough time to cool down and get used to the thought that you are a bride-to-be now.
As for the spendings, you might get married only once in your life. Even if you tie the knot for the second or third time, it's still a very special occasion. You can compare it to buying a new house or a new car. The memories about this day will stay with you for the rest of your life. Your kids and grandkids will be curious to see your wedding photos and videos. Professional wedding organizers say that people who economize on their weddings often regret it later. But those who make beautiful and heart-felt ceremonies never regret their expenses!
Most of the above-mentioned problems are based on an archetypal fear. Consciously or subconsciously, you might be asking yourself "Will my life change too drastically after the wedding? Will I need to sacrifice my freedom? Will my character, lifestyle and habits change?".
Today, all these fears hardly make sense. Yours is not an arranged marriage. You know your partner very well and you're sure that they have deep feelings for you. Only the best is ahead of you, so cheer up!
How to plan the Big Day hassle-free?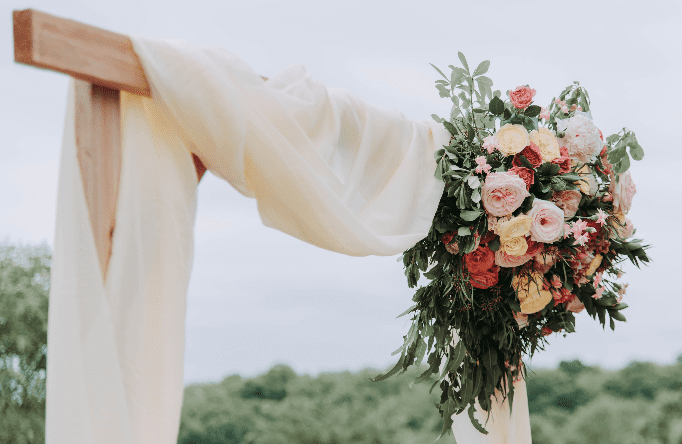 Now, let's focus on the 8 precious recommendations that should help you to overcome the "I hate wedding planning!" problem.
Hatred is a healthy and natural human emotion. If you hate something, there's nothing wrong with it (or with you). If you hate wedding planning, it doesn't mean that you're crazy or inferior to everyone else. Just accept your feelings and don't blame yourself
Take a break from wedding talks
Set the time when no wedding discussions are allowed. When you leave your office in the evening, you don't reply to your client's messages anymore, right? Customers know your working hours and they realize that you will answer them the first thing in the morning. You can apply the same principle to conversations about wedding planning.
You can prohibit your closest people to talk to you about your wedding in the following time intervals:
On Sundays
During lunch breaks
Early in the morning, before you had your first cup of coffee
When you're driving
Also, you should explain to your partner, friends and relatives when you feel more or less ready to talk about the ceremony. Plus, you might select an optimal communication channel: face to face, WhatsApp, email and so on.
No, this principle doesn't suggest that you should kiss your partner every time you feel stressed (however, that might be a good idea!). This acronym stands for "Keep it simple, stupid!".
Avoid exaggerations. Don't tell yourself that planning a wedding ceremony is a challenging task that very few people on this planet can cope with. It's not an exam or job interview. If you do something wrong, no one will punish you — and of course, your partner won't leave you!
For perfectionists, it might be difficult to stick to the KISS principle. They believe that on their wedding day, they must look impeccable. They think that everyone expects them to throw a grandiose party. But the truth is that not everyone is a perfectionist. Most people take things much easier. They will be happy simply because you get married, period.
If you hate the process of planning your wedding, maybe your partner loves it? Your mother, sister or best friend might be huge fans of event organizing. Don't hesitate to tell them that you would appreciate their help. Most likely, they will feel happy and privileged because you entrust them with such a responsible task.
What do you expect from your wedding? What is the most important aspect of it, in your opinion?
Cost-efficiency
An opportunity to see those people whom you meet too rarely (such as a childhood friend who lives abroad now)
A splendid show
Your chance to forget about the diet and eat so many tasty things
Photos and videos where you will look gorgeous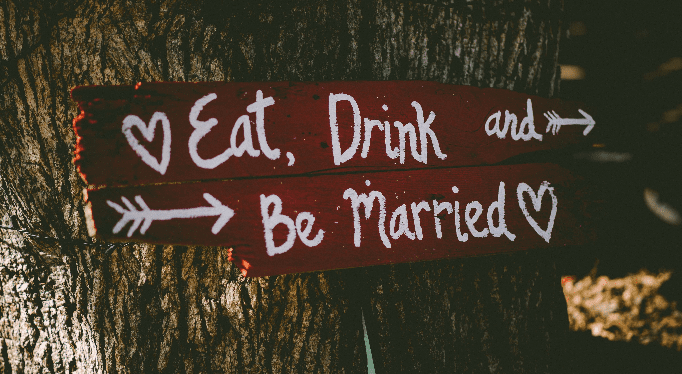 Put the most effort into those aspects that seem paramount to you — and delegate all the rest.
Focus on your preferences
You will feel less stressed when you concentrate on a particular type of activity that you like. These are just a few examples of what it might be.
Planning the menu
Choosing the dress
Discussing the decorations
Creating hand-made invitations
If you keep yourself busy with simple and practical things, you will forget about the drama.
Invite only your dearest and nearest
You don't need to invite 100 guests to your big day. Instead, try to surround yourself only with those people whom you genuinely love and trust. Let it be just your closest relatives, a couple of friends and a couple of colleagues. Ask your partner to narrow down the list of guests that they might want to invite too.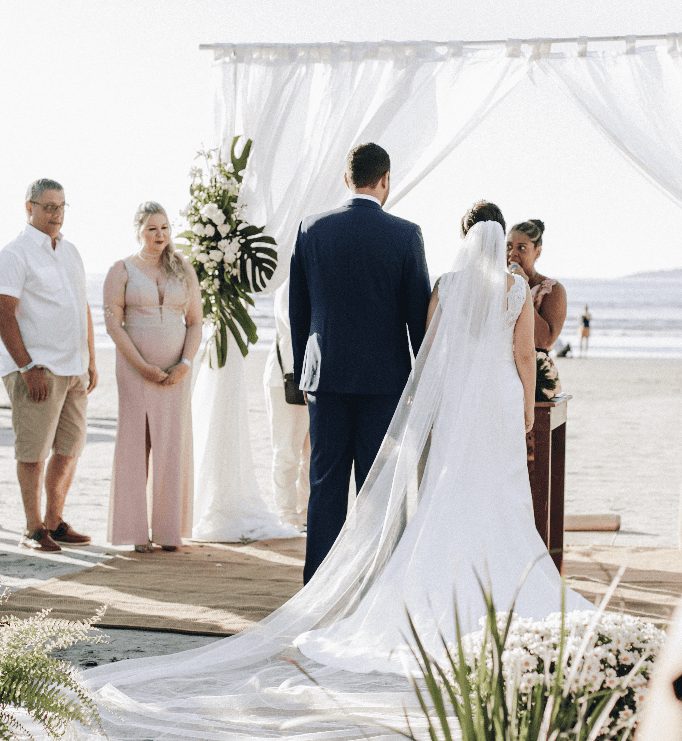 Intimate weddings have many advantages:
They cost less than large-scale gatherings
You will effortlessly find a venue
It will be easier for you to calculate how many meals and drinks you need
All the guests will stay connected and will be able to enjoy true family vibes
You can be sure that the photographer takes enough pictures of everyone
You will find time to talk to everyone and express your gratitude for the gifts
Besides, you won't need to spend too much time and effort on organizational duties during the ceremony. The caterer, the DJ, your mum and many other people would be coming up to you to ask questions. The larger your party, the more decisions you will need to make on the spot.
Some brides-to-be might think "What if my other friends and colleagues will get offended if I don't invite them?". Well, it's your big day and not theirs. You can afford to be a bit egoistic on such an occasion. Your comfort and your positive emotions should be your top priority.
Some restaurants allow the newlyweds to book only a certain part of their premise. This means that apart from your guests, there will be many other people in the restaurant. You should avoid such venues!
If you like the style of rustic weddings, you can book an old barn in the countryside that was turned into a banquet hall. Yes, you will need to organize the transportation for yourself and your guests. But no third parties will disturb you there. You will be able to walk in the fields, take pictures, make videos and enjoy 100% privacy! Later on, you might have a rest in a boutique hotel.
If you prefer to stay in the city, you can book a small pub. You might book the venue for the whole day, for the whole evening or just for a few hours. If you opt for the latter, ask the administration whether they will be hosting any other events before or after your wedding. Ideally, there should be no evening concerts after your daytime party.
Consider those venues that you know well. It might be the cafe where you met your partner or where you had your first date. Or it might be a restaurant in a quiet side street with hardly any traffic. If your partner wants to organize a wedding in a posh and trendy location, think twice whether you might agree or should insist on your variant.
***
If you're a bride who doesn't like weddings, don't panic. You're not the only person in the world who has this problem.
You might be afraid to plan your own big day simply because you exaggerate. You think that it might be too challenging and too stressful — but in fact, it should be so much fun! Talk sincerely about your feelings with your dearest and nearest. Let them help you. Opt for an intimate ceremony instead of a large-scale one.
Learn to relax and focus on your love!